This Valentine's Day,
Love Yourself All Month Long
How Many Days Until Valentine's Day? Let us Countdown For You.
Live + Be Well™
Probiotic + Pink Himalayan Salt Mask
Key Ingredients:
💕 Lactobacillus Probiotic –strengthens skin's natural defense system, providing instant relief to red or irritated skin. With continued use, helps reduce redness and acne, increases circulation and hydration and offers anti-aging benefits.
💕 Pink Himalayan Salt – a powerful natural detoxifier that penetrates the skin removing toxins leaving skin feeling refreshed and nourished.
💕 Horsetail Kelp – renowned for its ability to help moisturize the skin.
Live + Be Well™ Probiotic + Pink Himalayan Salt Mask is a silky, rich mask with the latest in skin care technology. Combining the detoxifying and beautifying benefits of natural probiotics and Pink Himalayan Salt helps maintain a healthy balance in the skin's microbiome by influencing the types of bacteria that live on your skin. Studies have shown that probiotics can help strengthen the skin's natural defense system resulting in optimal hydration and circulation, increased antioxidant benefits as well as brightening, reduction in toxins, improved acne conditions, and softening the appearance of fine lines and wrinkles.
Recommended For: All skin types.
Glimmer Of Hope™ Shimmering Facial Oil
Key Ingredients:
💕 Rosa Damascene Oil (Turkish Rose Oil) – contains deep conditioning benefits and anti-inflammatory properties. With the ability to regenerate, heal and protect the epidermis, also helps to promote a youthful complexion.
💕 Virgin Sclerocarya Birrea (Marula Kernel Oil) – referred to as a luxuriously rich oil, this antioxidant oil is mostly composed of oleic acid and linoleic acid that offers antioxidant benefits, conditions the skin and helps restore a radiant tone.
💕 Limnanthes Alba Seed Oil (Meadowfoam Oil) – contains a luxurious blend of antioxidants, fatty acids, and vitamin E.
Glimmer Of Hope™ Shimmering Facial Oil is a restorative blend of oils that help to nourish and deeply condition the skin. This advanced formula contains organic oils from around the world. Some of these luxurious oils include Fractionated Coconut, Turkish Rose, Squalane, Jojoba, Sunflower, Meadowfoam, Marula, and Borage Oils. These botanical oil blends work to keep skin looking smooth and supple, with a healthy, naturally-radiant glow. It protects, renews skin tone and texture, and promotes a more luminous, youthful appearance by addressing concerns like dullness, sun damage, and dryness.
Recommended For: Dry, dehydrated, maturing skin.
SomeBODY To Love™
4-in-1 Multi-Tasking Body Cream
Key Ingredients
💕 Algae Extracts – conditions, hydrates, softens and detoxifies the skin, replenishing essential vitamins and minerals.
💕 Squalane – mimics the skin's natural oils, making it an excellent emollient lubricator. It is also a natural antioxidant with powerful anti-inflammatory benefits and anti-aging properties.
💕 Grapeseed Oil – contains antioxidants that keep skin firm and tight while also helping preventing fine lines, wrinkles, and stretch marks.
SomeBODY To Love™ 4-in-1 Multi-Tasking Body Cream targets multiple layers and conditions of the skin for effective and comprehensive skin rejuvenation.
This patented technology is composed of multiple functional compartments within a single microsphere with active ingredients in their shell encapsulating 3 smaller sub-micron spheres which contain additional beneficial ingredients that tighten, lighten reduce the appearance of wrinkles and soften skin texture.
Recommended For: All skin types.
Pucker Power™
3-in-1 Plumping Lip Treatment
Key Ingredients
💕 Palmitoyl Tripeptide-38 – a powerful anti-wrinkle peptide, acting on skin-rebuilding essentials and smoothing wrinkles from the inside. By assisting the body's natural regeneration process, it helps the skin retain its youthful firmness.
💕 Sodium Hyaluronate – a powerful humectant that attracts and holds on to water, helping to hydrate and keep lips moist.
💕 Homosalate – helps to prevent against sunburn and photo-damage that may lead to the formation of premature signs of aging.
Pucker Power™ 3-in-1 Plumping Lip Treatment is a multi-tasking lip treatment that provides immediate and lasting benefits to overall lip health. This proprietary complex of stimulating, hydrating, anti-aging ingredients and UV SPF 30 protection makes lips appear more youthful, plump, smooth, and rosy.
Recommended For: All skin types.
Limited Edition ClarityRx
Mask Favorites Bundle
Enjoy a night in for 2 with this mask bundle. We also love this kit for our Mommy & Me Dates. But hurry supplies are limited!
This kit includes:
💕Cleanse Daily™ Vitamin-Infused Cleanser 4 oz
💕 Cold Compress™ Soothing Cucumber Mask 1.7 oz
💕 Live + Be Well™ Probiotic + Pink Himalayan Salt Mask 1.7 oz
💕 Rehab™ Mediterranean Detoxifying Mud Mask 1.7 oz
💕 ClarityRx Spa Headband
💕 ClarityRx Cosmetic Bag
Recommended For: All Skin Types.
Down + Dirty™
Detoxifying Charcoal MicroExfoliant
Key Ingredients
💕 Wakame – a potassium and magnesium-rich seaweed that is clinically proven to protect skin against environmental pollutants.
💕 Bladderwrack – an antioxidant and mineral-rich seaweed known for its water-binding properties, supporting healthy skin hydration and nourishment.
💕 Activated Charcoal – helps remove toxins from the skin's surface.
💕 Green Tea – infuses a potent antioxidant for free radical protection.
Down + Dirty™ Detoxifying Charcoal MicroExfoliant is a detoxifying charcoal microexfoliant that rejuvenates skin and refines pores. This earthy, stimulating mask lifts away dirt, dull skin, micropollutants and impurities for a clear, healthy complexion. It contains some of the most powerful minerals and natural toxin fighters from the earth and the sea, including wakame, bladderwrack, activated charcoal, apricot seed powder and green tea.
Recommended For: All skin types. Excellent for oily and problem skin.
4 Ways to Care for Your Skin During the Month of Love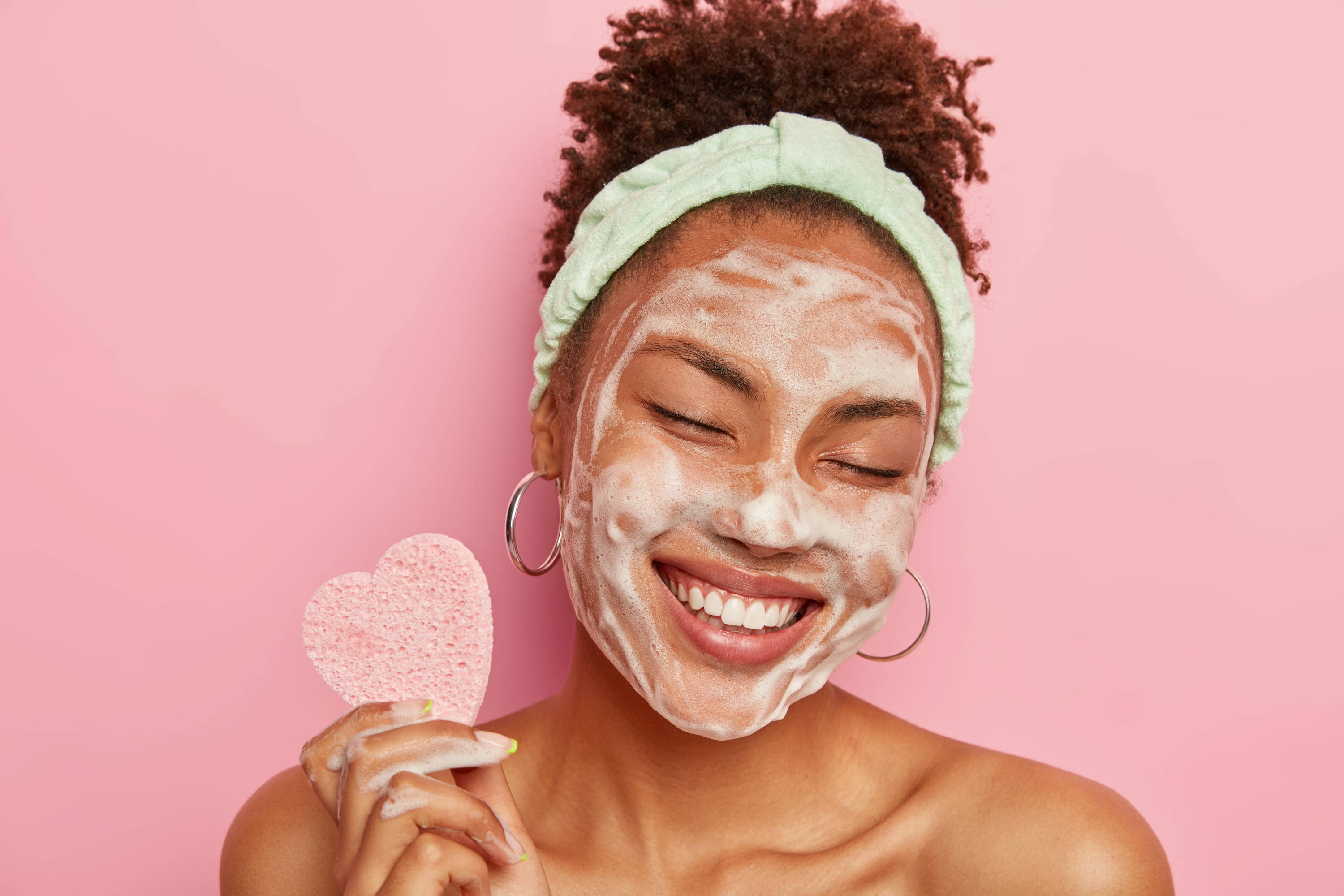 By now, your newsfeeds, inboxes and shopping excursions are probably flooded with reminders that Valentine's Day is on the horizon. 'Tis the season of love. But around here, we're only interested in one type of love—self-love. You are your longest relationship and that's why we want to make sure you're taking care of yourself first and foremost. There are many forms that self-love can take, but we bet you already know our favorite: skincare.  
Your skin is your largest organ. It's main function is to protect all of your other very important organs from external elements like bacteria, extreme temperatures and chemicals. The skin is the body's first line of defense, just one of many reasons why we're so passionate about taking care of it. When you care for your skin, you care for your entire body. This month, we challenge you to try these four ways to love your skin—and yourself...
---

Follow us to get more Clarity!